Header is a span H1 style
Water Slide Rentals in Phoenix
Beat the heat with water slide rentals in Phoenix that are fun for all ages! Whether you're throwing an outdoor birthday party, school field day, or company picnic, our selection of high-quality, durable, and entertaining inflatable water slide options will be the highlight of any event. We carry selections that are perfect for children and adults, so everyone can have fun in the sun while staying refreshed.
As a locally owned and operated small business in Phoenix, Arizona, we prioritize exceeding expectations with helpful customer service and reliable delivery across Maricopa County. With the support of our experienced team of party professionals, you can enjoy your event just as much as your guests! We handle all of the heavy lifting of party planning with exceptional water slide rentals in Phoenix that don't disappoint.
Take a look at our broad range of water slide rentals in Phoenix and schedule your inflatable today to get the party started! We're confident our inventory will best suit any theme, budget, or timeframe, but if you have any questions about our selections or services, give us a call at (623) 439-5787 to speak with one of our team members today.

Water Slide Rental Phoenix Uses for All Events
Book a water slide rental Phoenix parents, business owners, and administrators trust for your next fundraiser, vendor fair, or family reunion. Whether you're throwing a block party for the neighborhood kids or are planning a corporate team-building day, we're certain our wide range of safe, heavy-duty, and entertaining Phoenix inflatable water slide rental options will bring joy, laughter, and fun-filled memories to any event.
We regularly schedule our water slide rental Phoenix residents can't get enough of for countless styles of parties and events, including:
Birthday parties
Company picnics
Festivals
Field days
Fundraisers
Graduation celebrations
Grand openings for businesses
Holidays
Lock-ins
Slumber parties
Youth group events
And more!
Whatever exciting event you have in the works, we have no doubt that our range of water slides in Phoenix AZ will entertain the entire guest list for hours on end. We carry options particularly suited for specific age groups, including our toddler Under the Sea water slide, and we have options that are built for adults only, like the 42ft Screamer, which is made for ages 16 and up.
If you have any questions about which water slide would be best for your particular guest list, give us a call at (623) 439-5787 to go over your options with one of our helpful team members or browse our website products to view the recommended age group. We're here to answer any questions about how to throw an unforgettable event with the help of our water slide in Phoenix AZ options, so get in touch today!

Amazing Selections of Water Slide Rentals Phoenix AZ Parents Trust
Choose the water slide rentals Phoenix AZ parents AND kids can't get enough of with the amazing selections from the team at Water Slide Rentals AZ! No one knows water slides as well as we do, and we have the expansive inventory to prove it. Not only do we carry a wide variety of colors and themes, but we also have different styles of water slides, like the Tsunami water slip and slide or the double-lane Log Extreme slide!
No party is too big or small for our team, and we're proud to offer a range of price points that are ideal for every party theme and budget. Take a look at some of our most popular rentals below and book your Phoenix water slide rental today!
16ft Princess Single Lane Water Slide: Fit for a queen-to-be, this ultra-feminine pink and purple water slide is a hit for birthday parties, tea parties, or just celebrating your little princess! Crowned with an inflatable tiara at the top of the slide, this inflatable also makes for great photo ops. This rental begins at $350 for a single-day rental and is suitable for ages 5 and up.
16ft Under the Sea Toddler Water Slide: Complete with an inflatable wave and cute fish along the sides, this water slide is perfect for beach-themed bashes! Recommended for ages three and up with adult supervision, this slide begins at $250 for a single-day rental and will keep your toddlers occupied while staying safe!
36ft Extreme Lava Water Slide: Vibrant and eye-catching, the lava inflatable water slide rentals in Phoenix Arizona are a great fit for school field days, large outdoor events, or festivals. Recommended for ages 12 and up, this rental begins at $2,000 for a single-day rental and is guaranteed to keep the entire guest list entertained for hours on end.

Why Choose Us for Your Phoenix Water Slide Rentals
Our Phoenix water slide rentals have become a household name over the years because we offer an expansive selection of safe, durable, and entertaining selections for all ages. We carry specifically-curated slides that are suited for individual age groups, including toddlers, young children, preteens, and adults. Whatever your party theme, budget, or timeframe, we're positive we have the ideal selection to help take your event to the next level. We carry the #1 bounce house rentals Phoenix has to offer, along with concessions, obstacle courses, interactive games, and more!
We're a fully insured and licensed company, and we prioritize customer safety and satisfaction above all else. We partner directly with reputable, industry-leading manufacturers who utilize the latest design methods and technology to build secure, long-lasting waterslide rentals Phoenix AZ parents can trust.
Our water slides include an inflatable splash pad for a safe landing, and we carefully inspect each slide before and after each rental to ensure it's in the best condition before being used again. The rentals are made with fire-resistant and lead-free vinyl materials, so you can rest assured that your children will remain safe while having a blast! Over the years, we've become the top provider of Phoenix water slide rentals because we carry high-quality inventory that matches our experience. Book your slide using our convenient online scheduling tool today!

How to Book a Water Slide Rental in Phoenix
When you're ready to book a water slide rental in Phoenix, use our handy online scheduling tool to get the party started today! We make it super simple and straightforward to book online with our secure system, so you can get your rental as soon as the next business day.
From the "Home" page of our website, click the "Rentals" drop-down button on the top menu bar, then click the "Water Slide Rentals" button to view all of our water slide options. This page lists our entire water slide inventory and gives a high-level overview of each product, including a photo, height, and starting price point. If you'd like to see additional information and photos about the particular inflatable water slides Phoenix AZ loves, click the product title or photo to view more.
Once you've found the best selection for your upcoming event, click the red "Book Now" button, then the red "Add to Cart" button. Input the date and times of your event to make sure your specific rental is available that day. From this point, you can add an additional water slide rental in Phoenix to your cart or begin the checkout process. When you're ready to check out, click the red "Checkout" button, input contact and billing information, event information, and opt-in or out to our damage waiver, then click the red "Continue" button. From this point, you'll submit a $50 deposit using our secure system and any major credit card.
Once you've submitted payment information, you'll receive a confirmation email from our team including a digital copy of our contract. We'll be in touch leading up to the day of your event to confirm a delivery dropoff window that works best for you (typically 1-3 hours before the start of your event). If you'd prefer to speak with one of our team members about our water slides rentals Phoenix AZ locals can't get enough of, feel free to give us a call at (623) 439-5787!
40 ft water slide rental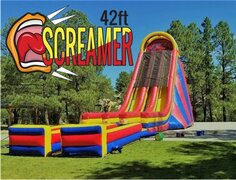 40ft Tsunami water slide rental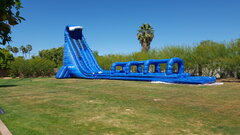 The Screamer 40ft dry slide rental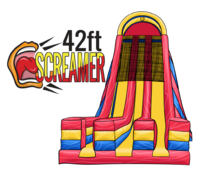 36ft Extreme lava water slide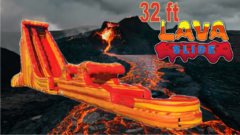 32 ft tall double lane Log Extreme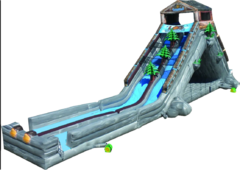 32 Ft Sky Line - Double lane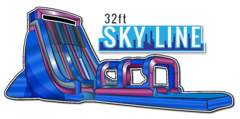 27 Ft tall Patriot - Double lane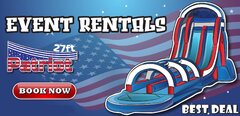 27 Ft tall Purple Tropical - Single lane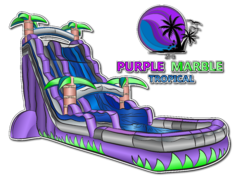 27 ft tall Lava Slide - Single lane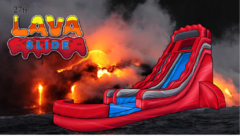 24 Ft tall Tropical - Double lane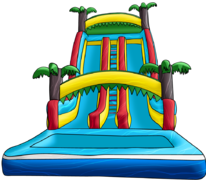 22 Ft Arctic slide - Single lane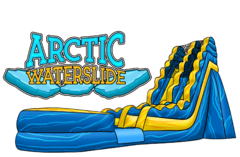 22Ft Grey Volcano - Single lane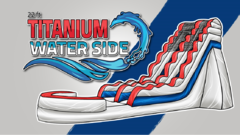 21 Ft tall Target wet slide - Single lane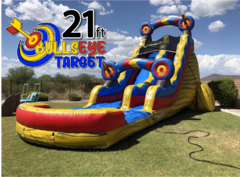 20' ft Turbo Helix Water Slide combo - double lane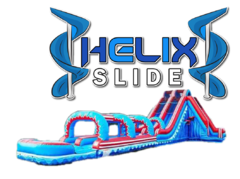 20 Ft tall Patriot with slip n slide - Single lane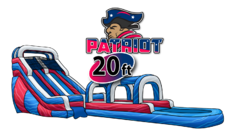 20 Ft tall Patriot water slide - Single lane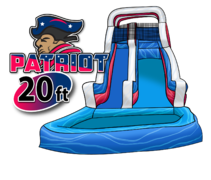 20ft dolphins double lane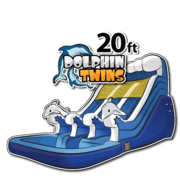 20ft Tropical Oasis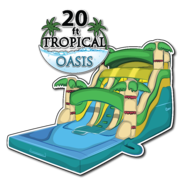 17ft inflatable girl water slide rental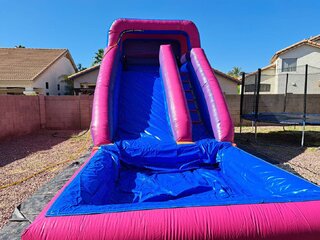 18ft tropical - single lane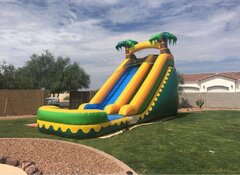 16ft tropical -single lane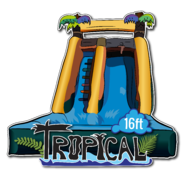 16ft dolphines - single lane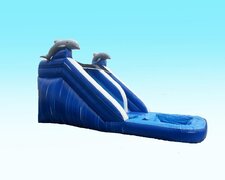 14ft cloud - single lane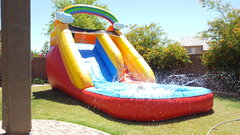 dunk tank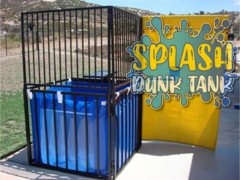 Toddler 16 ft Under the sea water slide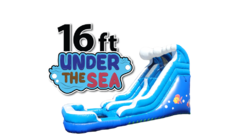 Patriot slip and slide - Double lane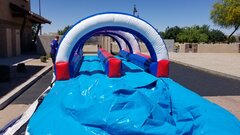 The Screamer 40ft water slide rental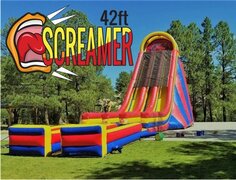 16ft dolphin - double lane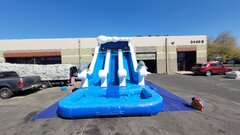 Water hose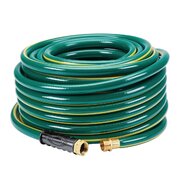 Delivering Fun With ​​Water Slide Rental Phoenix AZ Locals Love
Let us provide the fun with a water slide rental Phoenix AZ can't live without! We're happy to offer delivery to a wide portion of Maricopa County including the 85003, 85004, 85006, 85007, 85008, 85009, 85012, 85013, 85014, 85015, 85016, 85017, 85018, 85019, 85020, 85021, 85022, 85023, 85024, 85027, 85028, 85029, 85031, 85032, 85033, 85034, 85035, 85037, 85040, 85041, 85042, 85043, 85044, 85045, 85048, 85050, 85051, 85053, 85054, 85083, 85085, 85086, 85087, 85226, 85251, 85253, 85254, 85255, 85281, 85282, 85283, 85301, 85302, 85304, 85305, 85306, 85307, 85308, 85310, 85331, 85339, 85340, 85353, 85383, and 85392 zip codes.
Our customers enjoy setting up at local parks including Papago Park, Margaret T. Hance Park, or Encanto Park to celebrate outdoors and utilize our amazing community in the process. We're here to help guide you through your options and make sure you have all of the equipment you need including a generator, a lengthy hose, or outdoor furniture. We're your all-inclusive provider of water slide rental Phoenix AZ can rely on, so don't hesitate to let us know if you have any questions about where to set up your event.
We proudly offer our inflatable water slide rental Phoenix AZ locals love in Gilbert, Chandler, Mesa, and Scottsdale, among other areas. If you're on the hunt for the best water slide rentals in Gilbert AZ, you're in the right place! If you don't see your zip code or city listed, call us at (623) 439-5787 to see how we can support your party planning needs today!
Our Service Area
If your project site is outside our normal service area, just let us know! We do deliver even farther out, and special accommodations can usually be made to suit your project.
NOTE: Extra fees may vary depending on how far you are outside our service area.
FAQs About Our Water Slides for Rent in Phoenix AZ
Learn more about our
water slides for rent in Phoenix AZ
by browsing our frequently asked questions below. We're happy to provide more details at any point if you need guidance about our services and selections!
Q.
Does the rental period include setup?
A.
No! We strive to arrive 1-3 hours prior to the start of your event to set up the water slide rentals and bounce house rentals Phoenix AZ. In the event that we have multiple setups scheduled for the same time, we might deliver four hours ahead of your event or even, in some cases, the night before. Our team will give you a call to confirm those details before the date of your event or if you have special circumstances, feel free to give us a call at (623) 439-5787 to go over your options.
Q.
How much do your water slides cost?
A.
Our prices range based on the style of the slide and the rental period. We're proud to offer a range of price points to make our rentals accessible to a wide scope of customers. We understand many people are searching for cheap water slide rentals Phoenix AZ can rent, but along with affordable prices, we guarantee on-time delivery, durable selections, and friendly customer service. Our smaller water slides begin at $250 and make lovely additions to birthday parties and other events!
Q.
Can I use a water slide indoors?
A.
As long as the slide is not connected to water, yes! Our water slides can also be used as dry slide options for indoor events. The beauty of water slides is that they're perfect for warmer months throughout the year (most of the year in Arizona) or they can be disconnected from water and used during the chillier weather as well. They're a flexible and convenient selection built to entertain a wide age range of people.
If you have any additional questions about our water slides for rent in Phoenix AZ, browse our extensive website to view individual products or give us a call at (623) 439-5787 to discuss your options today.
5-Star Reviews for Our Water Slides for Rent Phoenix AZ
We never get tired of hearing about how our water slides for rent Phoenix AZ residents love have made someone's day. We're thrilled to have been part of countless birthdays, graduations, holidays, and celebrations over the years, and we're eager to prove to you that our services and selections are well worth our price points.
Get in touch with us today to learn more about scheduling an inflatable water slide rental Phoenix residents can't get enough of or browse our website for more information. We're confident we have the perfect party paraphernalia to help you create an unforgettable experience. Take a look at our 5-star reviews from previous customers below and get booked today!
What Customers are Saying
"We booked a bounce house with double slide for my sons birthday and it was definitely the hit of the party! I booked last minute (a week prior to party) and they were able to accommodate and made it so easy to book. Friendly and efficient service. The bounce house/slides were clean and they even had a banner to put on it that matched his theme. Would definitely use them again!"
-J. Simonton
"After comparing companies and prices, we rented from Bounce Then Slide last year and again this past February. It was an easy process both times! I booked both events over the phone with John - he was thorough in going over details and policies. Since we used the bounce house in our backyard, he reminded us that we got to keep the inflatable overnight - which our little girls loved! The delivery and pick-up crews were on time, friendly, and answered all our last minute questions. We have recommended Bounce Then Slide to several friends and will continue to do so based on both positive experiences."
-Jaymee M.
"Great slide options! Very fast and efficient set up and delivery. Will be using again!"
-Mallory A
Previous
Next