Header is a span H1 style
Rock Wall Rental Phoenix
Choose us for the rock wall rental Phoenix kids and adults can't get enough of! We provide the peak of party fun in Phoenix, Arizona, and surrounding areas. While we've made our name in water slide rentals, we're also your premier destination for exhilarating rock walls and other interactive outdoor activities. Tired of the same old bounce houses and games? Why not elevate your next event with our jaw-dropping rock wall rentals? Ideal for parties, corporate team-building weekends, community gatherings, local festivals, or even just a family day in the backyard, our rock walls bring a whole new level of excitement to every occasion.
We're proud to provide the rock wall rental Phoenix customers use to take things up a notch. Our rock walls are as secure as they are adventurous. With multiple routes to the summit, climbers of all experience levels can challenge themselves in a safe, controlled environment. Whether your guest list is made up of beginners or seasoned pros, we're confident everyone in attendance will have a fabulous, fun-filled time!
Whether you're hosting a mini-mountaineers party or an adult adventure fest, we've got the perfect wall to scale your party to new heights of fun. At Water Slide Rentals AZ, we're more than just a rock wall rental Phoenix customers can count on; we're your partner in creating unforgettable experiences. So, strap on your harness and join us on this climb to an epic party. With our commitment to safety, variety, and top-notch customer service, we're ready to help you summit the peak of party planning. Book exciting games, rides, and interactives online today, and reserve the #1 rock wall Phoenix has to offer!

Choose Us For The Best Rock Wall Climbing In Phoenix
Are you ready to scale the heights of party excitement with the best rock wall climbing in Phoenix? Hold on tight because Water Slide Rentals AZ is about to rock your world! Imagine this: A bustling birthday bash, the honoree stepping into their harness, gasps and cheers echoing as they conquer the challenging routes of our rock wall. Our climbing walls don't just provide a unique thrill; they're the canvas for unforgettable memories and collective laughter.
We also deliver our safe and affordable rock climbing walls in Phoenix for corporate events of all kinds, where suit jackets are swapped for safety gear and office norms for adventurous ascents. It's more than just fun! It's about team bonding, fostering friendships, and tapping into that dormant adventurous streak with the rock climbing wall Phoenix AZ uses to create lasting memories year-round.
Envision community events, fairs, local festivals, field days, or school carnivals where our rock walls steal the limelight. Children and adults line up for their turn to tackle the towering challenge, creating an atmosphere buzzing with anticipation and cheer.
So, whether you're planning a birthday party, corporate event, or community gathering, let us elevate your celebration and show why we're the best place to rent portable rock climbing wall Phoenix has seen. The fun doesn't stop at rock walls and zip lines! Looking for inflatables, concessions, or even the top-rated portable toilet rental Phoenix AZ has to offer? We carry it all! Bring a touch of the mountains and heaps of fun to your party with Water Slide Rentals AZ. Let's rock this party together!

Delivering Options for a Rock Climbing Wall In Phoenix AZ And The Surrounding Areas
Experience the thrill of a rock climbing wall in Phoenix AZ by partnering with us today! Not only do we offer the indoor rock wall climbing Phoenix adventure-seekers crave, but we also boast competitive pricing and an unrivaled selection of party rental options. We're proud to cover a broad service area within the Phoenix metro area, always going the extra mile with punctual delivery, flexible scheduling, and dependable customer support.
We rock the Phoenix region, including the zip codes 85003 through 85087, 85226, 85251, 85253, 85254, 85255, 85281, 85282, 85283, 85301 through 85310, 85331, 85339, 85340, 85353, 85383, and 85392 in Maricopa County. Don't see your zip code or city? Give us a shout! We're often able to make adjustments to accommodate your specific project, budget, and delivery needs. There's no need to spend hours scouring the internet for "Phoenix rental rock wall" when Water Slide Rentals AZ is your one-stop shop!
Delivering rock-solid Phoenix, AZ, party rentals are our forte, and we're constantly pushing to support your events, parties, and budget in a manner that's timely and convenient. We'll handle delivery and assembly, allowing you to focus on the excitement of your event. We love collaborating with local businesses, churches, school districts, organizations, and communities to keep our region vibrant and full of fun!
Want to add a touch of adrenaline to your public park events, like those at Encanto Park or Margaret T. Hance Park? We're all for it! Our rock walls are ready to add an extra layer of thrill and excitement to these wonderful community spaces. So, what are you waiting for? Reach for new heights with our rock wall rentals!

How To Book The Phoenix Rock Wall Our Customers Love
At Water Slide Rentals AZ, we're elevating excitement with the most exciting options for a Phoenix rock wall! Who said party planning had to feel like climbing Mount Everest? We're here to turn it into a downhill trek. Our user-friendly website makes snagging a Phoenix rock climbing wall as simple as scaling a kiddie hill. Whether you're a parent, event planner, or business owner, reserving our towering rock wall is as effortless as a few mouse clicks. Just browse, select your party date, add to your cart, and checkout — it's smoother than a well-worn climbing shoe!
Our system breaks down the barriers to the Phoenix rock wall our customers crave. Transparency? Check! You'll see the total cost as you add items to your cart. Real-time updates on availability and delivery estimates? We've got you covered. Secure storage of credit card information for our repeat customers? Absolutely. We've designed our system to be your reliable partner in party planning.
So, whether you prefer our intuitive online booking system or want to give us a ring at (623) 439-5787 for a friendly conversation with one of our team members, with Water Slide Rentals AZ, you're not just renting a rock wall; you're gearing up for an unforgettable adventure. Make party planning a walk in the park with us! Get ready to rock and roll with our rock wall rentals.
Rock wall rental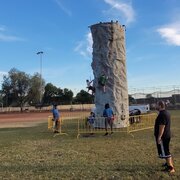 Zip Line Rentals AZ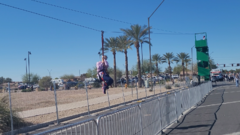 HOA insurance add on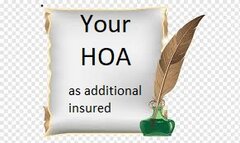 FAQs About Rock Wall Climbing Phoenix AZ
If you have questions about how to rent the rock wall climbing Phoenix AZ has come to know and love, or any other questions about pricing and delivery, you've come to the right place! Take a look at a selection of our FAQs below and get in touch with us if you need any additional information.
Q.
Does the price include set up and delivery?
A.
Yes, the listed price includes delivery inside our listed service region and assembly. If an additional delivery fee is required, it will be listed on the product page. Listed prices do not include sales tax, so add items to your cart and continue to the checkout page to see your grand total. From adrenaline-pumping water slides to the best rock wall rental in Phoenix AZ, we make your event special with transparent pricing and no hidden fees!
A.
Our usual arrival time is between one and three hours before the rental period begins. It's possible that we'll need to begin setting up as much as four hours in advance if that day has a high volume of rentals. If you have a specific schedule you need to adhere to, give our team a call and we'll see if arrangements can be made.
Q.
What kind of payments do you take?
A.
We accept both cash and major credit cards. Our drivers do not keep spare change, so if you're paying with cash, be sure to have the exact amount ready.
Hear What Our Customers Are Saying About The Best Rock Wall Climbing in Phoenix AZ
We're ecstatic to provide the best rock wall climbing in Phoenix AZ. Make your upcoming event one to remember with our exciting rock wall and zip line options. We are grateful for the opportunity to develop enduring partnerships with our fantastic clientele and pleased to receive repeat business from numerous local organizations and residents. Take a look at what our previous customers have to say about the best place to rent a rock wall in Phoenix AZ and book online today:
What Customers are Saying
"After comparing companies and prices, we rented the rock wall from them last year and again this past March. It was an easy process both times!"
-Kaycee M.
"The rock wall was the main attraction of our event, the kids loved it! The delivery guys were on time and courteous. We Will be renting again!"
-Jim W.
"Tried a few but this is best for all kinds of events if you're looking for Water slides, Bounce Houses, mechanical rides and Inflatables rental in AZ. Excellent excellent work!"
-Saurabh P.
Previous
Next