Header is a span H1 style
Mechanical Bull Rental Phoenix
Yeehaw, party wranglers! Saddle up for an unforgettable ride with the mechanical bull rental Phoenix customers know and love from Water Slide Rentals AZ! We're your trusty sidekick for heart-thumping, cowboy-worthy fun. We're not just the masters of water slides; we're also the top ranch for the best mechanical bull rentals in Phoenix, Arizona.
Hold on tight as we buck the trend of typical parties, transforming your backyard into a rollicking rodeo. Our mechanical bulls are as much a wild ride as they are a captivating centerpiece – perfect for birthdays, corporate gatherings, or even a good ol' fashioned hoedown. Safety is our first rodeo! We're the mechanical bull rental Phoenix parents trust because we've wrangled these wild mechanical bulls to be as safe as they are thrilling. With adjustable speed settings and a soft inflatable landing, our bulls guarantee a knee-slapping good time without the risk of injuries. Whether you're an expert cowboy or a rookie rider, our mechanical bulls offer a tail-whipping fun time for all!
Our website is your gateway to this western wonderland. Navigate through our easy-to-use platform to pick the best mechanical bull rental Phoenix has to offer for your party, select your dates, and checkout quicker than a bull out of the gate. As a homegrown Arizona company, we know a thing or two about delivering a good time. We pride ourselves on the cheap mechanical bull rental prices Phoenix event planners prefer. We grab the bull by the horns when it comes to offering premium fun without premium prices, keeping your budget as safe as a bull in a pen. Let's rustle up some unforgettable fun and make your party the talk of the town. Because here at Water Slide Rentals AZ, we don't just rent out party supplies; we deliver a rootin' tootin' good time with the mechanical bull rental Phoenix can't get enough of!

The Mechanical Bull Rental Phoenix AZ Chooses For All Its Events
Y'all ready for a rootin'-tootin' roundup with the mechanical bull rental Phoenix AZ knows is number one? Giddy up, because Water Slide Rentals AZ's mechanical bulls are not just for rodeos; they're the centerpiece of any celebration looking to buck the trend of mundane parties!
Picture this: At a sizzling summer birthday bash, the guest of honor takes the saddle, laughter, and cheer filling the air as they tackle the bucking bull. Our mechanical bulls don't just provide fun; they create the backdrop for cherished memories and shared laughter. Imagine the mechanical bull rental Phoenix AZ trusts at a corporate event where ties are loosened, and folks swap their office chairs for a wild ride on our mechanical bull. It's not just about fun; it's about team building, camaraderie, and unleashing that adventurous spirit!
Consider community events, fairs, or school carnivals where our mechanical bulls become the star attraction, with kids and adults alike queuing for a chance to test their cowboy mettle. The thrill of the ride, the anticipation in line, and the cheers from the crowd all come together to create an unforgettable event. Along with our show-stopping interactive rides and games, we carry all of the other party essentials, including bounce houses, water slides, and even a Phoenix rock wall!
Whether it's a birthday party, corporate event, or community gathering, we're the best mechanical bull rental near Phoenix AZ. Use us to bring a touch of the Wild West and a whole lot of fun. Round up your guests for a hoedown to remember with our locally owned and operated company! Yeehaw!

How to Book The Mechanical Bull Rental Phoenix Arizona Wants At Every Party
It's easy to book the best mechanical bull rental Phoenix Arizona has to offer with our convenient online system! Who says throwing a party has to be as challenging as riding a wild bull? At Water Slide Rentals AZ, we've transformed the rental process into a smooth rodeo ride! We're not just about wet 'n wild fun; our mechanical bull rentals in Phoenix AZ are making waves too.
Our easy-to-use website makes getting a Phoenix AZ mechanical bull rental a cinch. Whether you're a parent, an event planner, or a business owner, booking our interactive games and rides is as simple as a few clicks. Browse, select your party date, add to your cart, and check out—it's as breezy as a desert wind!
Our rental system makes it easy to book the mechanical bull rental Phoenix Arizona wants at every party. Real-time updates on availability, delivery estimates, and secure storage of credit card information for repeat customers make our system your trusted party planning pal. Reserving the mechanical bull Phoenix AZ knows and loves is a walk in the park through our online system, or you can dial us at 623-439-5787 for a friendly chat. With our team of fun professionals, you're not just hiring a mechanical bull; you're booking an unforgettable experience, making party planning as easy as a cowboy's daydream!
HOA insurance add on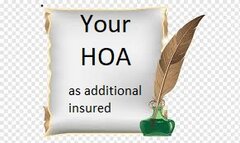 Mechanical Bull rentals AZ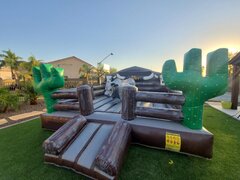 What Our Customers Are Saying About The Best Mechanical Bull Rental In Phoenix AZ
We're ecstatic to provide the best mechanical bull rental in Phoenix AZ. Whether you're in a pinch and need a last-minute delivery or are just starting to plan your big event, our team is here to help answer any questions, make suggestions, and guide you through the entire process. We are grateful for the chance to work with such wonderful clients again and again, and we take great pride in the fact that many of them are local businesses, school districts, or community organizations. Take a look at what our customers have to say about our equipment and services below, and book online today!
What Customers are Saying
"After comparing companies and prices, we rented the Bull from them last year and again this past February. It was an easy process both times!"
-Jaydee m
"The mechanical bull was the highlight of our event, the kids loved it! Delivery guys were on time and courteous. Will be renting again!"
-Tim K
"Tried a few but this is best for all kinds of events if you're looking for Water slides, Bounce Houses, mechanical rides and Inflatables rental in AZ. Excellent excellent work!"
-Saurabh P
Previous
Next