Header is a span H1 style
Tent Rentals Phoenix
Looking for the tent rentals Phoenix customers use to catapult their parties from great to unforgettably spectacular? Look no further than Water Slide Rentals AZ! We carry all kinds of party supplies, including bounce houses, mechanical rides, and even wedding table rentals Phoenix couples count on to take their weddings to the next level. Our affordable prices, stellar customer service, and guaranteed on-time delivery have allowed us to build a positive reputation in our community, and we hope to earn your business and prove to you why we're the #1 party rental supplier in the area!
Picture your backyard transformed with the tent rentals Phoenix customers use to elevate events with ease. That's the Water Slide Rentals AZ experience. We offer you the chance to rent tents, tables, and chairs to help fuel the fun, excitement, and unending joy. Whether you're hosting a backyard neighborhood get-together and want extra seating for guests or are planning an outdoor rehearsal dinner before the big day, we have the equipment you need to make sure your event is unforgettable and effortless.
Booking with us is as easy as a summer breeze! Find the tent rentals Phoenix event planners know are the best in the area with our convenient online system. Choose your favorite tent style and size, and leave the rest to us. From delivery to setup, our team ensures that your party goes swimmingly. We believe in delivering buckets of fun without washing away your budget. With our competitive prices, unbeatable service, and top-rated selections, you get an ocean of joy without draining your wallet.

The Party Tent Rentals Phoenix Uses For All Events
Looking to host a soirée under the stars or a chic picnic in the park? Use the party tent rentals Phoenix event planners count on! We're your one-stop shop for party perfection and are well-known in the community as the maestros of merriment, offering a symphony of party tents, tables, and chairs to orchestrate your dream event.
Our party tent rentals are like chameleons, morphing to match any event. Outdoor wedding, corporate gala, or kid's birthday bonanza? Our tents are the perfect canvas for your celebration. They shield you from the Arizona sun, keep unexpected showers at bay, and most importantly, set the stage for your unforgettable event!
But a party isn't just about the venue, is it? It's also about creating a comfortable space for your guests to mingle, dine, and create memories. Enter the top-quality tent rentals in Phoenix that customers know and love! Crafted with care and maintained meticulously, they're the silent heroes that make your guests feel right at home, no matter the cause for celebration. Whether it's a grand banquet or a cozy gathering, our tables and chairs have you and your guests covered with party tent rentals Phoenix AZ can depend on. Book now for your upcoming birthday, bar or bat mitzvah, graduation celebration, bridal shower, gender reveal, community festival, vendor fair, or other exciting get-togethers!

Many Options For The Pop Up Tent Rentals Phoenix Uses Year-Round
We're proud to carry the best selection of pop up tent rentals Phoenix has to offer! We're your go-to source for top-quality tent, table, and chair rentals in Phoenix AZ. Whatever the occasion, from weddings and corporate events to backyard parties and family reunions, our extensive inventory of rental equipment is sure to meet your needs.
Whether you're on the hunt for a sleek and elegant white pop up tent in Phoenix to help take your backyard birthday soiree to new heights or just some added shade at an upcoming community festival, we've got you covered. Browse our website and use our convenient online booking system to secure tent rentals today!

Choose Us for the Wedding Tent Rentals Phoenix Couples Rely On
We provide the wedding tent rentals Phoenix event planners and couples can count on! The tents we rent are available in a range of sizes and designs to accommodate any event. Whether you're looking for a simple canopy tent or a more elaborate party tent, we have you covered. Our tents are made from high-quality materials and are designed to withstand the elements, ensuring your guests stay dry and comfortable no matter the weather. Our tents come in three different sizes. Take a look at our options below and book online today!
Our 20' x 20' tent is constructed with strong, lightweight materials and is built to protect you and your guests from the harsh elements. It can be fully enclosed and can fit 4-6 tables and 20-24 chairs comfortably. It's perfect for smaller events and will often be used for birthday parties, backyard gatherings, picnics, or corporate sponsorship events.
Our 20' x 40' tent is bigger and better for most medium-sized gatherings. It's best used for larger parties, community events, church events, fundraising setups, and more! This sturdy tent is capable of holding 8-12 tables and 60-72 chairs and can be fully enclosed. It's also available for rent overnight, with the price beginning at $500.
Our 20' x 60' tent is the biggest in our inventory and is perfect for large gatherings of all sorts, including weddings, carnivals, public events, corporate events, contests, and outdoor galas. This impressively sized tent can comfortably hold 12-18 tables and 72-108 chairs and can also be fully enclosed to protect your guests from the Phoenix heat. This tent is available for rent now and starts at $750. Rent with us today and see why we have the best wedding tent rentals in Phoenix!

Why Choose Us For The Table Rentals Phoenix AZ Uses For All Events
Are you seeking the best table rentals Phoenix AZ customers use for their events? Anchor your plans with Water Slide Rentals AZ, the party professionals who specialize in crafting not just parties but a treasure trove of memories! We provide table chair rentals Phoenix party planners, businesses, school administrators, brides-to-be, and families depend on to help support a wide range of events.
We don't just host parties; we create magical experiences. At Water Slide Rentals AZ, we offer the beloved classic table rentals Phoenix AZ relies on, as well as a range of equipment to complete your upcoming birthday, high school class reunion, or corporate function. Whether you're in need of high-quality event furniture or the mechanical bull rental Phoenix uses to take fun to new heights, we've got you covered.
And the magic doesn't stop there! We don't just offer rentals; we deliver unforgettable experiences. Our customer service team is your lifeguard in the sea of party planning, ensuring your journey is as smooth as a calm sea with stress-free delivery, setup, and pick-up. We partner directly with trusted manufacturers to make sure our equipment is top-quality and industry-leading. Immerse yourself in the Water Slide Rentals AZ experience because, with us, every party is a splash hit!

Variety of Table and Chair Rentals Phoenix Customers Appreciate
Alongside the fabulous table and chair rentals Phoenix customers appreciate, we house an array of elegant party tents, tables, and chairs. From elegant soirees to energetic kids' parties, we've got the perfect party setup to suit your unique style. Our tables and chairs are designed to fit each and every event and keep our customers happy. Let us know your preferred setup, and we can work with you to solidify a theme that fits your unique aesthetic.
​​Our 8ft round tables are perfect for any event, ranging from small to large. Our chairs can be used to bring the family together for a reunion or to hold smokin' hot BBQ fresh from the grill in your own backyard. Customers can expect these tables to be strong and stable, and they can rent as many as needed. At $15 each, these tables are a must-have for any event.
Customers needing tables with more length can rent our 6ft rectangular tables. These classic tables are perfect for any backyard party, wedding, corporate event, community gathering, or simple get-together. For $10 each, customers can rent as many as they need.
We've also got the best folding chair rentals Phoenix has seen to go along with those tables. A nice neutral beige color, these chairs can match any event and come assembled and ready for customers' guests. Our chairs are available in various colors and styles, from basic folding chairs to elegant Chiavari chairs, and are designed for comfort and style. Available to rent for just $2 each, these chairs are perfect for any event and any budget.
Our variety of tables and chairs makes us the premier choice for any event. Whether you need them to seat guests or present food and drink, our assortment of round banquet tables and rectangular folding tables will meet your needs. From simple folding chairs to the most stylish and ornate Chiavari chair rentals Phoenix customers ask about, we stock a wide selection of stylish and functional seating options. Choose from our wide selection, and let us show you why we're the best choice for all your party rental needs!

How To Easily Book Phoenix Tent Rentals
If you're looking for a straightforward method for booking Phoenix tent rentals, we're about to make your day! Whether you're a doting parent, a seasoned event planner, or a savvy business owner, our process for scheduling Phoenix Arizona tent rentals is refreshingly simple. Just cruise through our online catalog, feast your eyes on our wide array of Phoenix, Arizona, party essentials, and pick the perfect party tents, tables, and chairs to suit your unique celebration. Add them to your cart, select your rental dates, and checkout. As simple as a summer's day!
But wait, the perks don't end there! Our state-of-the-art rental system not only allows you to book Phoenix tent rentals, but customers can also see the total cost as they add items to their cart. Real-time availability updates, delivery estimates, and secure storage of credit card data for our regular party wizards—our online platform does it all. These features ensure that renting our party supplies is as easy as pie, relieving you of the typical event planning stress.
You can reserve our top-tier Phoenix tent rentals quickly and effortlessly through our online booking system, but if you'd rather chat with one of our friendly team members, give us a ring at (623) 439-5787. Our helpful representative will be more than happy to assist you. A few clicks on our user-friendly booking tool, and voila! You're on your way to a party paradise. Don't delay—let the festivities begin with Water Slide Rentals AZ!
  Tent, Table & Chair Rentals
8ft round tables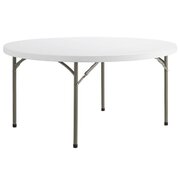 beige chairs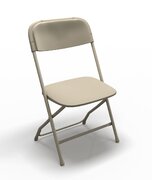 Cotton candy Machine

6ft rectangular tables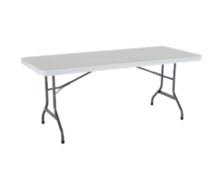 20x20 Tent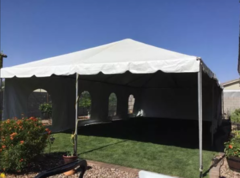 20x40 Tent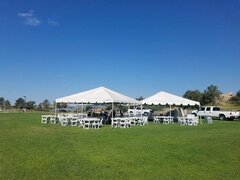 20x60 Tent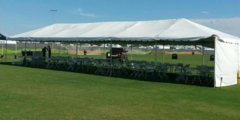 HOA insurance add on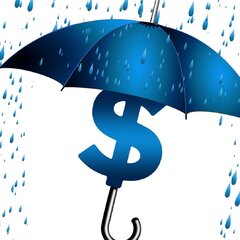 Delivering The Table Rentals Phoenix Arizona Customers Depend On To Surrounding Areas
We're proud to deliver the table rentals Phoenix Arizona customers use for fun events year-round! Not only do we have the chair cover rentals Phoenix customers are looking for, but we also have great pricing options and an incredible selection of party rental options. We also cater to a wide service area in the Phoenix metro area. Our company believes in going the distance for our customers with on-time delivery, convenient scheduling, and reliable customer support.
We offer delivery to the 85003, 85004, 85006, 85007, 85008, 85009, 85012, 85013, 85014, 85015, 85016, 85017, 85018, 85019, 85020, 85021, 85022, 85023, 85024, 85027, 85028, 85029, 85031, 85032, 85033, 85034, 85035, 85037, 85040, 85041, 85042, 85043, 85044, 85045, 85048, 85050, 85051, 85053, 85054, 85083, 85085, 85086, 85087, 85226, 85251, 85253, 85254, 85255, 85281, 85282, 85283, 85301, 85302, 85304, 85305, 85306, 85307, 85308, 85310, 85331, 85339, 85340, 85353, 85383, and 85392 zip codes in Maricopa County.
Give us a holler if you don't see your zip code or city listed, as adjustments can usually be made to suit your project and budget! You don't have to spend hours searching the web for "tent trailer rentals Phoenix AZ" when you can come straight to Water Slide Rentals AZ!
Delivering the table rentals Phoenix Arizona counts on is one of our company's major goals, and we consistently strive to help support your events, planning schedule, guest list, and budget in a time-sensitive and convenient way. Let our team handle the delivery and assembly so you can focus on the event! We regularly partner with other local businesses, churches, the Phoenix Union High School District, the Phoenix Elementary School District, local organizations, and neighborhoods to ensure our communities have fabulous times at unforgettable events! In fact, we even deliver to some of our enchanting public parks, like Encanto Park or Margaret T. Hance Park, so you can enjoy the picnic table rentals Phoenix loves. We take pride in keeping these event spaces lively and fun, so give us a call or book online today to get the party started!
Our Service Area
If your project site is outside our normal service area, just let us know! We do deliver even farther out, and special accommodations can usually be made to suit your project.
NOTE: Extra fees may vary depending on how far you are outside our service area.
FAQs About The Table Rentals Phoenix Customers Can Count On
If you have questions about how to reserve the table rentals Phoenix businesses, individuals, and organizations rely on or any other questions about pricing and delivery, you've come to the right place! Take a look at a selection of our FAQs below and get in touch with us if you need any additional information.
Q.
How much do your rentals cost?
A.
Our prices range depending on the style of the product, the quantity rented, the rental timeframe, and the delivery area. The price listed includes setup and delivery within our listed region. However, sales tax is calculated at check out. If you're looking for the most cost-effective tents, tables, and folding chair rentals Phoenix has to offer, you're in the right place!
Q.
Can you accommodate my large guest list?
A.
Absolutely! We regularly provide chair, tent, and table rentals Phoenix uses to host small or large events of all types. Whether you're planning a neighborhood block party or a large outdoor wedding reception, we're confident we have the equipment you need to throw a memorable and well-attended event.
Q.
Do I have to pay a deposit?
A.
Yes, all orders require a $50 credit card deposit. This deposit is fully refundable if you cancel your order at least eight days prior to your rental date. If you cancel between 2-7 days prior to your rental, you will be given a rain check that is good for up to one year to redeem at that point.
Positive Reviews For The Table and Chair Rentals Phoenix AZ Customers Can't Get Enough Of
We're ecstatic to provide the best table and chair rentals Phoenix AZ event planners, businesses, community organizations, and individuals can count on. Whether you're in a bind and need a tent rental delivery ASAP or are in the early stages of planning your big event, our team has the best table and chair rentals Phoenix Arizona has available to answer any questions, make suggestions, and help guide you through the process from start to finish. We cherish the opportunity to build lasting customer relationships with our amazing clientele and are proud to earn repeat business from local businesses, school districts, and families. Here's what people say about the best place for table and chair rentals Phoenix Arizona uses year-round.
What Customers are Saying
"Friendly and reasonable prices even let us add on chairs at last minute."
Kristen K.
"Great options! Very fast and efficient set up and delivery. Will be using again!"
Mallory A.
"The delivery and pick-up crews were on time, friendly, and answered all our last minute questions."
Jaymee M.
Previous
Next