Header is a span H1 style
Portable Toilet Rental Phoenix AZ
Take your party to the next level with the portable toilet rental Phoenix AZ uses year-round! We're not just in the business of fun and games; we're here to make your event as hassle-free as possible, from start to... well, finish! Our "Royal Flush" of portable toilets is a true game-changer. No more long lines or frantic searches for restrooms at your party or outdoor event. Our portable toilets are ready to rule your celebration, festival, or field day with regal convenience. With cleanliness fit for a king or queen, we ensure that our thrones are meticulously maintained, offering a comfortable and sanitary solution for all your guests.
We're proud to be the portable toilet rental Phoenix AZ can trust. When it comes to outdoor events, the right facilities can make or break the experience. That's why we're committed to offering the most dependable and convenient portable toilet rental Phoenix AZ trusts. Our easy-to-use website ensures a seamless booking experience, saving you time and energy. Just browse, select, add to your cart, and voila – your party's most essential need is taken care of in just a few clicks! We're happy to offer delivery in the metro Phoenix, Arizona area and the neighboring communities of Maricopa County.
We also value transparency, which is why our rental system lets you view the total cost of the best port a potty rental price Phoenix has to offer as you add items to your cart. Real-time updates on availability, delivery estimates, and secure storage of your credit card data for repeat customers make the booking experience as smooth as a well-planned party. Whether you're planning a carnival, corporate event, or wild, fun birthday bash, elevate your party game with the best portable toilet rental Phoenix AZ can provide. When nature calls at your event, we make sure you're more than ready to answer! Ready to bring home the throne? Call us at (623) 439-5787 or book online today.

The Port a Potty Rental Phoenix AZ Uses For Various Events
Use the #1 port a potty rental Phoenix AZ has to offer at your upcoming event to ensure your guests have a seamless and sanitary time! Ready for an event that'll be remembered as the best in years? Get ready for Water Slide Rentals AZ to make your party planning a walk in the park with our top-of-the-line portable toilet rentals. We're here to ensure your guests are catered to from head to toe, and yes, that includes their most basic needs, so that they can enjoy the show, dance for hours on end, celebrate a special occasion, and create lasting memories that don't involve uncomfortable or inconvenient bathroom experiences.
Imagine hosting a buzzing summer fiesta where everyone's having a good time, and, best of all, there's no need for a frantic search for restrooms. Why? Because you've got the best port a potty rental Phoenix AZ can provide stationed just around the corner. They aren't just a convenience; they're a necessity that ensures your guests are comfortable, thereby creating a wholesome party experience for all. Picture your community events, fairs, or school carnivals. Sure, there are fun games and attractions, but what about when nature calls? Fear not! Our portable toilets are there, ready to serve, turning a potential hassle into a smooth experience.
Whether you're planning a music concert, food festival, vendor fair, farmer's market, school field day, church event, summer camp, block party, or another exciting outdoor celebration, we're here to make sure your guests enjoy every second of it. It's not just about facilitating comfort; it's about ensuring a seamless event experience!
No matter the occasion - be it a birthday bash, a company team-building excursion, or a community gathering, we're the trusted portable toilet rentals near Phoenix AZ. Use us to add a touch of comfort and convenience to your event. Not to mention we keep the port a potty average rental price Phoenix customers have come to expect. Your guests will surely thank you! So, hitch your party wagon to Water Slide Rentals AZ and make your event a memory worth cherishing!

How To Easily Book a Phoenix Arizona Port a Potty Online
Booking the perfect Phoenix Arizona port a potty has never been more of a breeze than with our user-friendly online booking tool! At Water Slide Rentals AZ, we believe that planning a party shouldn't cause any headaches or stress, and we've turned the rental process into a smooth journey. But we're not all about water slides and mechanical bulls, we have amazing obstacle course rentals too! Our top-notch portable toilets are an essential part of any gathering, and they are getting rave reviews too!
Browse our inventory and get started securing a top-quality Phoenix Arizona port a potty. It's as simple as pie. Are you a parent, event planner, or business owner? In a few easy clicks, our booking tool allows you to view available products, select your event dates, and checkout using our secure system without any hassle.
Our ingenious rental system is designed to make Phoenix AZ portable restroom rental effortless. Our transparent pricing shows you the total cost as you add items to your cart. Our real-time inventory updates, accurate delivery estimates, and safe credit card storage for returning customers make us your go-to partner for event planning. Booking the most sought-after Phoenix Arizona portable restroom rentals is now as easy as a walk in the park. Simply use our online system or give us a call at (623) 439-5787 to speak directly with one of our team members. We're here to help! With our crew of party planning professionals in your corner, you're not just renting a portable toilet; you're ensuring a comfortable, unforgettable experience for your guests. Get started online or over the phone today!
  Portable Restroom Rentals
Portable Restroom male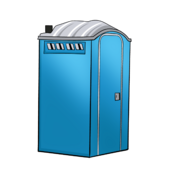 Portable Restroom rental Female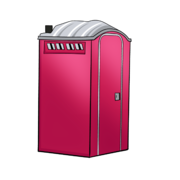 Portable sink

5 Stars for our Phoenix AZ Port a Potty Rental
Customers are raving about our Phoenix AZ port a potty rental options! With Water Slide Rentals AZ, renting port-a-potties is no longer a stinky affair but a breezy delight. Customers are head over heels for our unbeatable service, transforming necessary nuisances into festival-themed thrones that keep your party popping and your guests grinning! Take a look at a selection of the 5-star reviews we've received over the years and schedule your rental online today:
What Customers are Saying